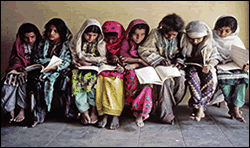 A right is as an agreement or contract established between the persons who hold a right (often referred to as the "rights-holders") and the persons or institutions which then have obligations and responsibilities in relation to the realization of that right (often referred to as the "duty-bearers".) Child rights are specialized human rights that apply to all human beings below the age of 18.
Universally child rights are defined by the United Nations and United Nations Convention on the Rights of the Child (UNCRC). According to the UNCRC Child Rights are minimum entitlements and freedoms that should be afforded to all persons below the age of 18 regardless of race, colour, gender, language, religion, opinions, origins, wealth, birth status or ability and therefore apply to all people everywhere. The UN finds these rights interdependent and indivisible, meaning that a right can't be fulfilled at the expense of another right.
The purpose of the UNCRC is to outline the basic human rights that should be afforded to children. There are four broad classifications of these rights. These four categories cover all civil, political, social, economic and cultural rights of every child.